Goldwork, one of the most beautiful techniques in hand embroidery, relies on the couching stitch, perhaps the most humble of stitches in needlework. The couching stitch is easily accomplished, but requires a steady hand and keen eye to be executed at the highest level. During this 10-week course, students will use the sampler format to explore eight variations of the couching stitch. The course will culminate with the creation of a personal design or research project. There will be a strong focus on both historic and modern readings. Students will be encouraged to research images to support their learning.
This multifaceted classroom experience will involve pre-recorded video presentations, PDF documents, chat options, and weekly live video conferences with the instructor using the Zoom platform. Three guest speakers will join us in our Zoom meetings: Marion Preshing from Alberta, Marie-Renee Otis from Quebec and Cynthia Jackson from Ottawa.
Zoom sessions will be held each Thursday with a maximum of 20 students. All sessions will be recorded for you to watch as a replay if you are unable to attend.
This online course will look at eight categories of couching over 10 weeks:
Week 1: Set-up and introduction to couching
Week 2: Underside couching
Week 3: Diaper and pattern couching
Weeks 4 & 5: Or nué
Weeks 6 & 7: Italian shading
Week 8: Damascening, vermicelli, Italian couching
Weeks 9 & 10: Independent design, catch-up, or research project
Upon course completion, students will be able to: 
- discuss the eight types of couching, the differences between them and their relative uses
- execute eight types of couching with repeated rows
- visually identify eight various types of couching from photographs
- draw a design on fabric for freestyle and counted couching work
Informal assessment:
- students will share photos of their work with the instructor through the course for ongoing feedback.
Formal assessment tools (optional):
- students will submit final photos of their sampler for comment.
- students will write a dictionary entry of the eight types of couching in their own words.
- students will draw their own design and indicate where they would use the various couching stitches, with annotations on colour usage.  
Self-Assessment (optional):
- students will write a critique of their sampler. 
- students will write a critique of their unique design plan.
Materials:
Students may use materials that they have at home, or purchase an optional kit from Golden Hinde UK.
Below is a list of materials that you can gather for use on the course:
Gilt and/or silver twist of any size (10 metres or more)
Gilt and/or silver passing of any size (10 metres or more)
Yellow and grey Gutermann sewing thread
Muslin/calico fabric (with an option to attach a second layer of silk or linen if you have it)
Beeswax
Needles (sizes, 6, 9, 10, 12, chenille 18)
Archival Pen (Sakura micron 005)
Stranded cotton - a selection of DMC or Anchor threads
Embroidery hoop/stretcher bars/slate frame
Stiletto
Scissors for cutting metal thread
Pair of Koma (homemade is fine)
Natalie Dupuis holds a Masters Degree in Education and taught as a classroom teacher and a teacher trainer in Toronto, Paris, and London where she lived for many years.  After having children she combined her love for teaching and her passion for embroidery and now teaches metalwork and surface embroidery. She has trained part-time at the Royal School of Needlework in London and has enjoyed learning at national seminars.  She has recently enjoyed accolades for her original design at the national level in Canada. Natalie has taught at the San Francisco School of Needlework and Design, Canada's annual embroidery seminar, and is scheduled to teach at the Embroiderers' Guild of America's national seminar. 
Natalie's work has been featured in Embroidery Canada magazine, Australia's Inspirations magazine, and in the USA's Needle Arts magazine. She is training as an apprentice needlework judge which combines her passion for thoughtful assessment and creative design. Natalie has written a research paper on the history of the couching stitch, published through the EGA in 2020. She has been awarded numerous embroidery education grants including the EGA's Research Fellowship Grant Award. 
Natalie has two young children who inspire her to be creative and pass on the love of needle arts.  She is involved in Waldorf education which values nature, creativity and of course handwork of all sorts.  
You can listen to her musings about embroidery and how she got to where she is today through numerous podcasts and video interviews found at www.stitcherystories.com and also on https://wetalkfiber.com/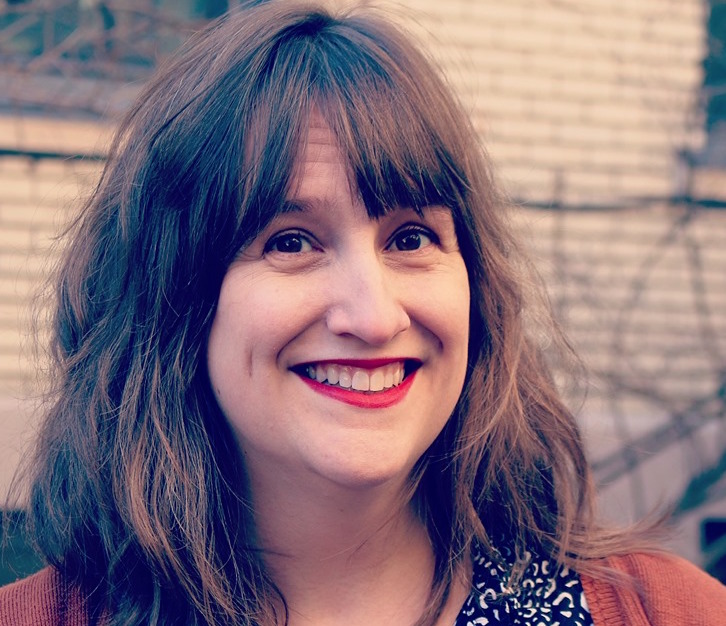 " I took several classes with Natalie and I will keep learning with her, because all her classes are rigorous AND fun. Natalie is a patient, kind and funny lady.
She makes it look easy and beautiful, but will make you work for real! Her pedagogical skills are beyond most embroidery teachers I had. She is clear and precise and super generous too. If you are a beginner, y
ou will end a course by falling in love with goldwork or any technique she'll teach and if you are an advanced embroiderer, you will be in awe with all the knowledge, passion and tips Natalie has and is willing to share. " M. Levasseur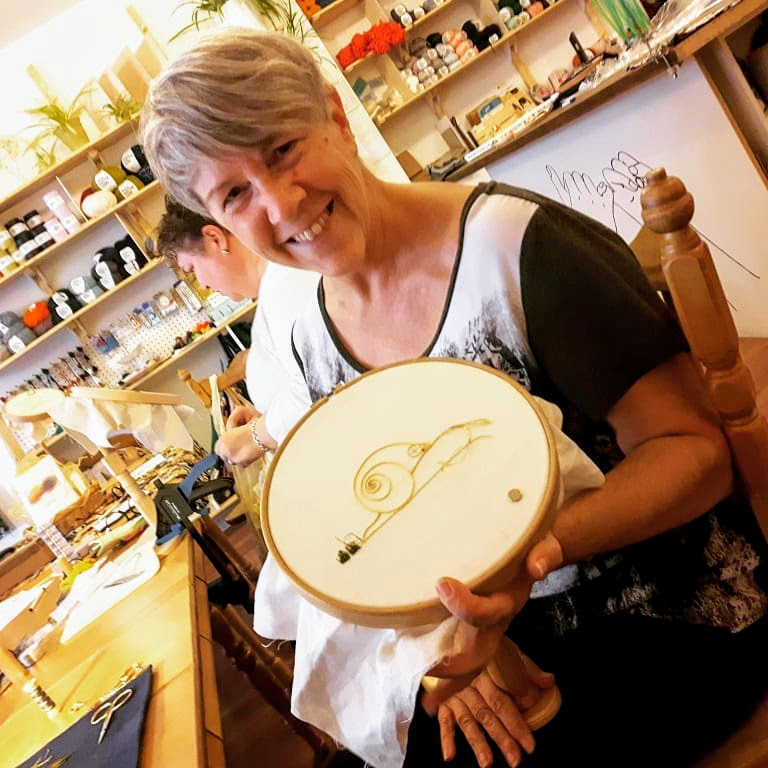 "
When taking a class with Natalie it is evident that she has a deep knowledge and a passion for goldwork embroidery, it shows in her attention to details in her designs, her kits and her class preparation. She provides clear explanations, demonstrates the techniques with patience, guides us during our stitching , encourages creativity and keep motivating all of the students during and after class. She is always available for my questions or when I need clarification." G. Marcoux