Goldwork the Or Nué Way: Online Goldwork Class
Honouring the chiaroscuro tradition from Europe in the 1400s
Intermediate/Advanced level
September 19 - October 30, 2021
(Live Zoom sessions every Tuesday)


Price: $295.00 Canadian


Taxes applied depending on your country/state


NOTE: Price does not include materials - students will collect their own supplies or order a
partial
kit from
Golden Hinde UK
Or Nué is a historic goldwork embroidery technique that has captivated our attention for centuries because it involves couching coloured threads over a base of metallic threads. The result is dimensional and visually striking needle art.
Enroll in this six-week course to learn how to design and stitch using the traditional Or Nué technique. You'll also learn about the origins and development of the technique, which was developed in the 1400s at the dawn of the Renaissance. Our class focus will be using chiaroscuro shading as the starting point for an original Or Nué embroidery design.  
Along the way you will learn how to analyze colour values using grey scale and how this guides thread selection. You will also learn how to transfer and colour your design.
In addition, you will get the chance to read articles and enjoy looking at photos of historic embroideries to develop an in-depth understanding of how the technique evolved and how it functions to create such visual impact.
The course will be delivered through live interactive Zoom sessions on Tuesdays at 11:00 or 13:00 EST, pre-recorded videos, downloadable PDF content, and guest presentations by leading goldwork designer and author Alison Cole, and art educator Lorna Mulligan. Our classroom will be presented through the online platform, teachable.com  
-
Pre-work: Create a collage (paper or electronic) of images that use shading and could be an interesting stitched piece, and identify a supplier who can quickly provide your coloured threads.
Guest Speakers Lorna Mulligan will join us on Thursday September 23 at 12:00 noon Eastern time, and Alison Cole will join us via Zoom on Tuesday, October 05 in the evening, exact time TBD.
Materials students will need to collect:
-Calico/muslin (18"x 18")
-Linen square (12" x 12")
-Sakura Micron sized 005 pen or hard pencil
-Passing thread size 4, 20 to 30 metres in either gilt/gold OR silver
-Yellow OR grey Gutermann sewing thread to go with passing thread 
-Yellow OR grey translucent thread to go with passing thread
-Embroidery needles size 10 - package of 10 or more
-Chenille needle size 18
-Tracing paper - a few sheets
-Pair of Koma (optional)
-Drawing paper
-Grey Scale & Value finder by The Color Wheel Company
-Coloured pencils
-Regular pencils (not mechanical)
-Stranded cotton or silk of many colours (individual choice to be chosen after course begins)
-Colour sample card from a supplier that you use (JEC/Anchor/DMC/PANTONE etc.)
-Rulers with millimetre markings
-Access to a photocopier/printer
-Embroidery frame/hoop
Please collect all of the materials you will need before the class begins, except for the coloured silk/cotton threads. Many of the supplies can be found online or at local art stores. Alternatively, some of the specialty materials can be supplied for you in kit format from Golden Hinde UK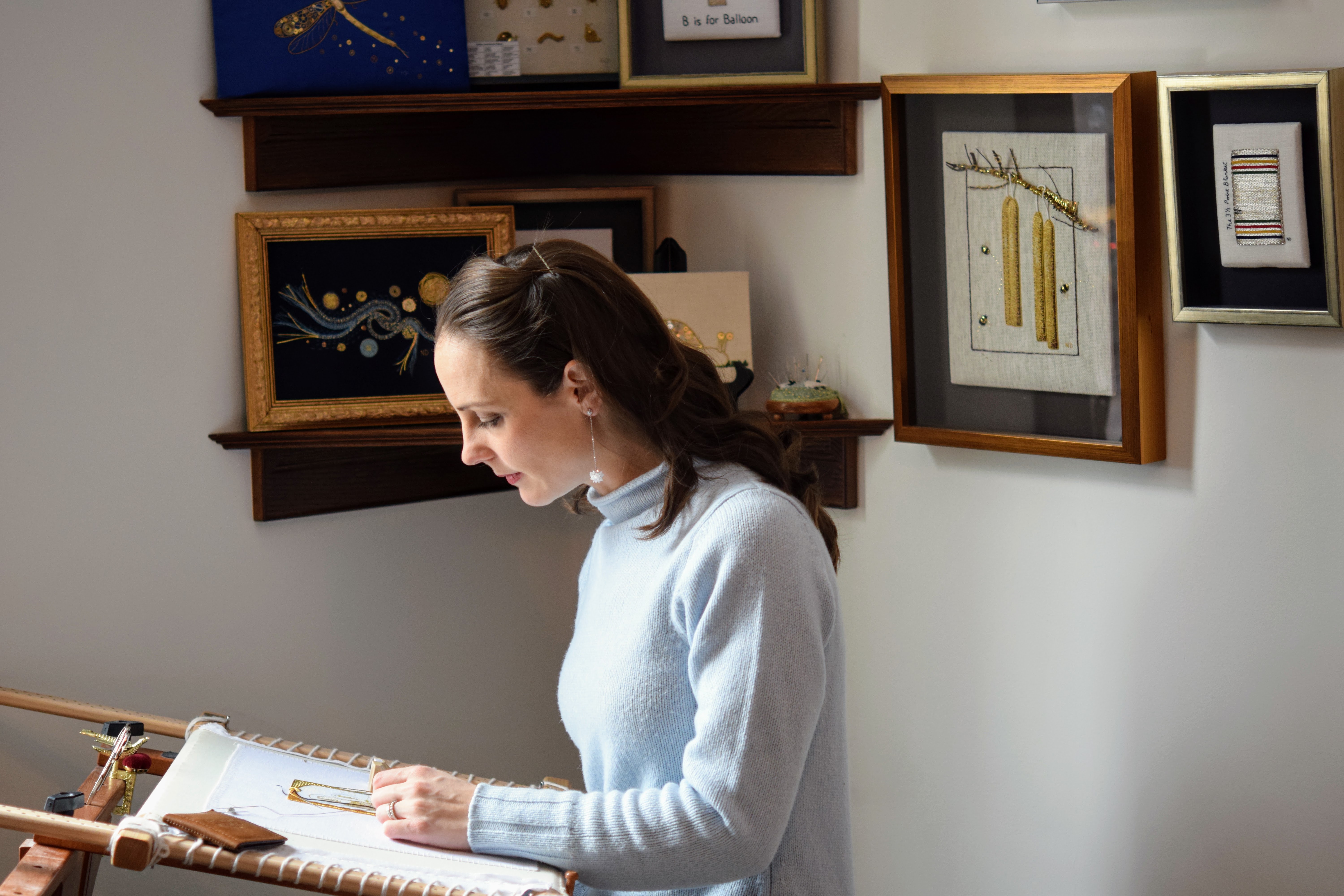 Natalie Dupuis holds a Master Degree in Education and has been a classroom teacher for international schools around the world. Following her passions, she has taught traditional hand embroidery in England, Canada, and the United States. Her work features in Inspirations magazine, Needlearts Magazine and in Embroidery Canada.  She has written a research paper on the history of couching stitches with the support of a research fellowship grant from the EGA. Natalie is an apprentice needlework judge with the EGA. She had trained part-time at the Royal School of Needlework and the San Francisco School of Needlework and Design.  Natalie is from Ontario and has lived in France, England and now resides in Montreal with her husband and two young children.