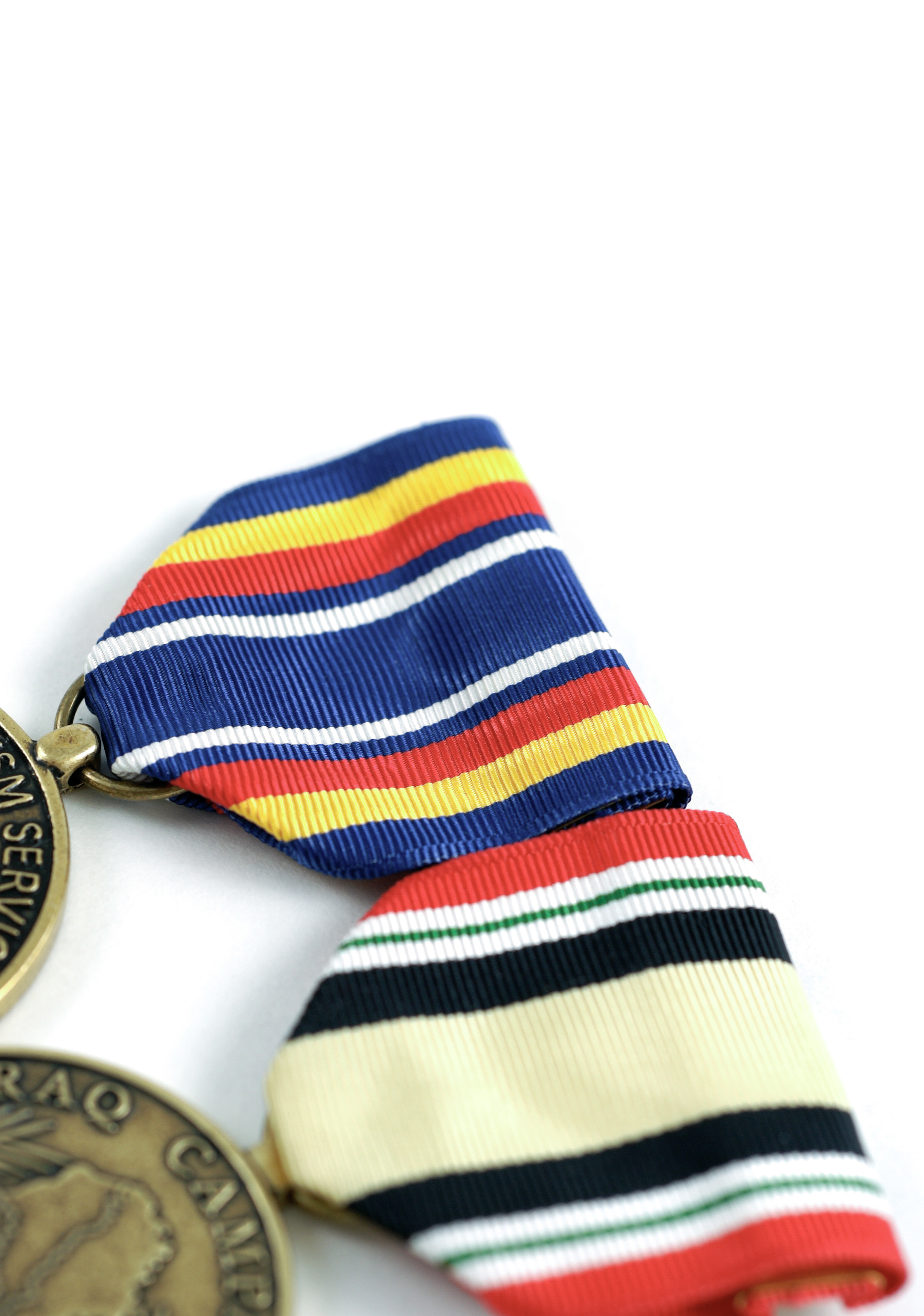 Ribbons have been awarded for centuries to recognize national service, individual accomplishment, and acts of bravery or sacrifice. Celebrated musicians, sporting heroes, fashion houses, peacekeepers, charities, and members of the armed forces are among those who have received ribbons of recognition. Ribbons and associated colours have also been used to recognize those who excel in daily life. 
In this 4-week online course, students will be asked to design and stitch a set of miniature ribbons that represent the life accomplishments and milestones of a special person, a historic figure, or fictional character. Students are also invited to reflect on their own lives and wonder which colours they would combine, and in what ratio, to create a coherent and meaningful representation. Students will imagine how a life could be represented in simple bars of colour. 
The humble couching stitch is used to create a miniature ribbon set that could represent something significant such as volunteer work, cancer survival, professional loyalty, familial achievements, special talents, and personality traits. 
With shining metal threads as a couched base, students will use goldwork embroidery to mimic traditional grosgrain ribbon texture. This basic stitch is taken to new heights when skillfully combined with colour and precise stitch placement, along with thoughtful spacing to allow glints of metal to shine through.
The course will focus on the meaning of colours in the Western world. Each individually selected colour will have a symbolic meaning understood by the creator of the design as well as to the individual to whom the piece is dedicated. This symbolism will be discovered as the student engages in independent research during the initial week of the course. 
The number of ribbons designed will be up to the student. Students may mimic the traditional size and shape of small undress ribbons, make an abstract representation of a ribbon, or create a larger undulating ribbon - the possibilities are only limited by one's creative boundaries and imagination.  
FAQ
What is the course cost?
$295.00 Canadian plus required taxes by country. This does not include materials
Will there be a kit provided?
Yes, a partial kit through Golden Hinde UK
When will the live zoom sessions be held?
Every Wednesday at 13:00 Eastern Time
Will the zoom sessions be recorded?
Yes, you can watch the replay at your convenience if you are unable to attend the live session.
What are the exact course dates?
March 07-April 02, 2022
Can I still access the materials once the course is over?
Yes, for an additional 4 weeks, after which the classroom will be closed.
Will there be pre-work and homework?
Yes and lots of it for you to extend your knowledge. Make sure you have time each week to work on this intense course
Who can I make a ribbon set for?
Friend, family member, fictional character, historical figure..... (previous examples were William Wallace, Florence Nightingale, Anne of Green Gables, a mother, a father, a sister, an aunt)
Do I need experience with couching or goldwork?
No, this course is open to all levels. The final piece can be done as couched goldwork as the example shows, or it can be finished in another technique if you wish. I will demonstrate how to use passing thread, how to couch, and how to turn in the goldwork style.
How long willI the course content be available for?
Students will have access to all the materials for 1 additional month once the course ends
Perfect your couching and turns alongside your understanding of the meaning of colours.